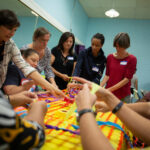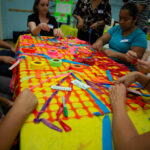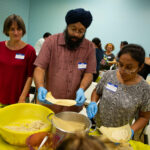 Truth + Tamales
A yearlong community-based art project and social practice
art + conversation + tamales + neighbors
Opening Reception: Friday, June 14th
From 6:00 pm to 8:00 pm
There will be a ribbon cutting ceremony at 6:30 pm and a dance performance by Danza Azteca Tonantzyn de St. Thomas More at 6:45pm.
Truth + Tamales features a large-scale, collaborative, temporary public artwork built on site at The ArtsCenter by over 100 local community members and artist Mary Carter Taub in 2018 and 2019. The temporary public artwork, comprised of safety orange plastic construction fence and brightly colored vinyl ribbon, is on exhibit in the Nicholson Gallery from June 3 – 28, 2019.
Truth + Tamales is an art and social practice that strives to be a change agent for a more inclusive culture in Chapel Hill, Carrboro and Orange County. Through traditional tamale making and contemporary art making, Truth + Tamales is on a mission to strengthen relationships, build community and bridge cultural gaps by practicing a "stranger to neighbor model." Over one year during monthly meet-ups, community members socialized, learned to cook tamales with local tamaleras, shared truths, and collectively built the public artwork on exhibit at The ArtsCenter.
The partners for this bilingual (Spanish/ English) project are Mary Carter Taub (public artist), Barbie Garayúa Tudryn (counselor) and José Nambo (teacher). Truth + Tamales is a grass roots initiative that receives support from The ArtsCenter, FPG Bilingüe School and El Centro Hispano. This project is supported by the NC Arts Council, a division of the Department of Cultural Resources. Participation in Truth + Tamales was free and open to public.
Questions? mary@marycartertaub.com
Preguntas? bgarayuatudryn@chccs.k12.nc.us
Truth + Tamales on Instagram @truthandtamales