As the Coronavirus pandemic reorganizes our lives, many of us are turning to the arts to provide insight, human connection, and healing. The ArtsCenter's online learning programs allow students of all ages stay creative, learn new skills, and maintain meaningful relationships with others from the comfort of their own home.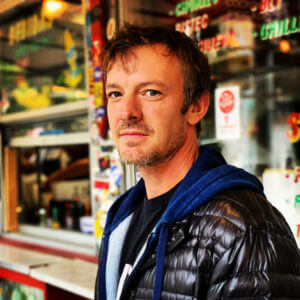 The ArtSchool is excited to welcome Durham fine artist and instructor James Keul to our arts education program. We spoke with him about his practice during the crisis and what students will learn in his first online workshop on Saturday, August 8th, Plein Air Painting Looking Out Your Window. Students can register for this workshop here!
What does your art and teaching practice look like in normal conditions?
I typically spend an equal amount of time working in the studio as I do outside, painting en plein air in nature. In my studio, at Golden Belt, in Durham, I have been working on a large figurative series and I do printmaking, especially monotypes.
How has Coronavirus impacted your art and teaching practice? 
This is a good question and one that I have been thinking about a lot.  As a parent of a five year-old boy, who I have with me 3-4 days a week, having no access to childcare has been a huge challenge. Because I have so little time to devote to painting, I felt that it wasn't practical to use oil paint, which is my go-to medium for painting. Instead, I began using charcoal, matte medium, and gesso, in alternating layers, which allows for more laying with a quick dry-time. Originally intended as an under-painting, the black and white quality not only reflects my passion for working in monotypes it also is a reflection of this strange new world we are living in, which in many ways does seem black and white. Because this new method of working for me was caused by the pandemic, and knew that other artists have been similarly affected, I decided to spearhead a community exhibition in the Grand Gallery, at Golden Belt, titled ReAwakening: Artistic Process During a Pandemic. It was an open call to artists living in Orange, Durham, and Wake Counties, and 29 Artists are participating. The exhibition runs from July 13 – September 27, 2020.
Please describe the upcoming class you're currently offering through The ArtsCenter's online program, Plein Air Painting Looking Out Your Window. Did the crisis inspire any aspects of your lesson plans? What can students expect to learn in this class? 
The workshop I am offering through the ArtsCenter's online program is essentially an extension of the plein air landscape class that I have taught for years, only indoors, looking out the window. This, of course, ensures that I have a good internet connection to zoom, but it also eliminates some of the more difficult aspects of plein air painting (think bugs, intense heat, and a sun that is constantly moving). In this online course, I will discuss all of the technical aspects of plein air painting, including composition, value, color theory, form, and creating a light effect. I will also show some examples from art history of artists who have been inspired to paint the view out of their window or of the window itself!
Are there any pieces of artwork or music, film, books, and/or TV that are helping you cope these days?
Honestly, the television shows that have helped me cope the most during the pandemic are the Power Rangers and Paw Patrol. Without them I'd get very little painting done at all on the days I have my son. Other than that, I like to listen to records and paint in my apartment, where I am blessed with fantastic light and where I will be teaching this workshop on August 8th.
James teaches Plein Air Painting Looking Out Your Window (starting August 8). Register for it and the rest of our ArtSchool Online classes at artscenter.live/ArtSchool.
Art instructors who are interested in exploring the possibility of offering online instruction through The ArtsCenter should contact Jenks Miller, ArtSchool Manager, at jmiller@artscenterlive.org for Adult classes or Allison Tierney, Youth Programs Manager at atierney@artscenterlive.org for Youth classes.