Artist Bio — Tom Simon
I've been a storyteller my entire life.  As a boy I recorded the world around me with a still camera and a tape recorder.  My professional career was primarily in film and television.  I was mentored by legendary documentarians, the Maysles brothers, who believed the best stories were character-driven and totally true to life.  After that I went to work for National Geographic serving as Exec Producer of the Nat Geo Specials on PBS and VP of Programming and Production.
I returned to hands-on filmmaking establishing Working Dog Productions just north of NYC.  For over fifteen years our team produced dozens of series and specials for HBO, PBS, A&E, National Geographic, The History Channel, The Food Network and others. Our program genres included investigative journalism, natural history, biography, true crime and cooking.Since moving to Chapel Hill several years ago I've come full circle, returning to still work with an emphasis on documentary projects and street photography. I love the simplicity of working alone, with just my camera and the people I meet along the way.  Rather than trying to draw out their stories as I did as a filmmaker, I aim to capture a moment in time and let their image give them voice.
Project Description
In March of 2020 as COVID-19 begins to rage across the country, the economy is crippled and massive shutdowns occur. Millions lose their jobs and food insecurity skyrockets. Local governments and NGO's organize drive-thru food distributions. Hunger-relief groups devise new ways to reach their recipients while trying to keep everyone safe.
As I photographed this effort across North Carolina's Triangle region, I began to see it as a human chain that starts with farmers, food service workers, donors, volunteers and so many more. It reaches all the way to the table of those who are hungry. Who are the people who make up this chain – this Lifeline – that's stretched so thin during the pandemic?
What I found was an abundant sense of community, compassion and a mission to help those in need. In the recipients there is gratitude, pride and a resolve to keep themselves and their families whole in the face of a crisis that seems to have no end. Above all, I've been inspired and invigorated by the humanity on display.
First Fruits Farm in Louisburg, NC donates nearly everything it grows to hunger relief.
Volunteers with The Society of St. Andrew pick produce left behind after fields are harvested. In NC over 5 million pounds are salvaged and donated every year.
Roger Nutter of Maple View Farm in Hillsborough, NC has donated over 6,500 gallons of milk to hunger relief groups.
Like many food suppliers, Ran-Lew Dairy in Snow Camp, NC was hard hit when restaurants shut down. It's made up for it by selling milk to the county for free distribution.
The Food Bank of Central and Eastern NC estimates over 750,000 people are facing hunger in its service area. One-third of them are children.
Farmer Foodshare in Durham connects small farmers with markets and helps provide fresh produce to the hungry.
The Produce Box in Raleigh packs food for a USDA program that buys food from farmers and provides it free to families during the pandemic.
PORCH, an all-volunteer grassroots hunger relief group, has over a dozen chapters in the Eastern US.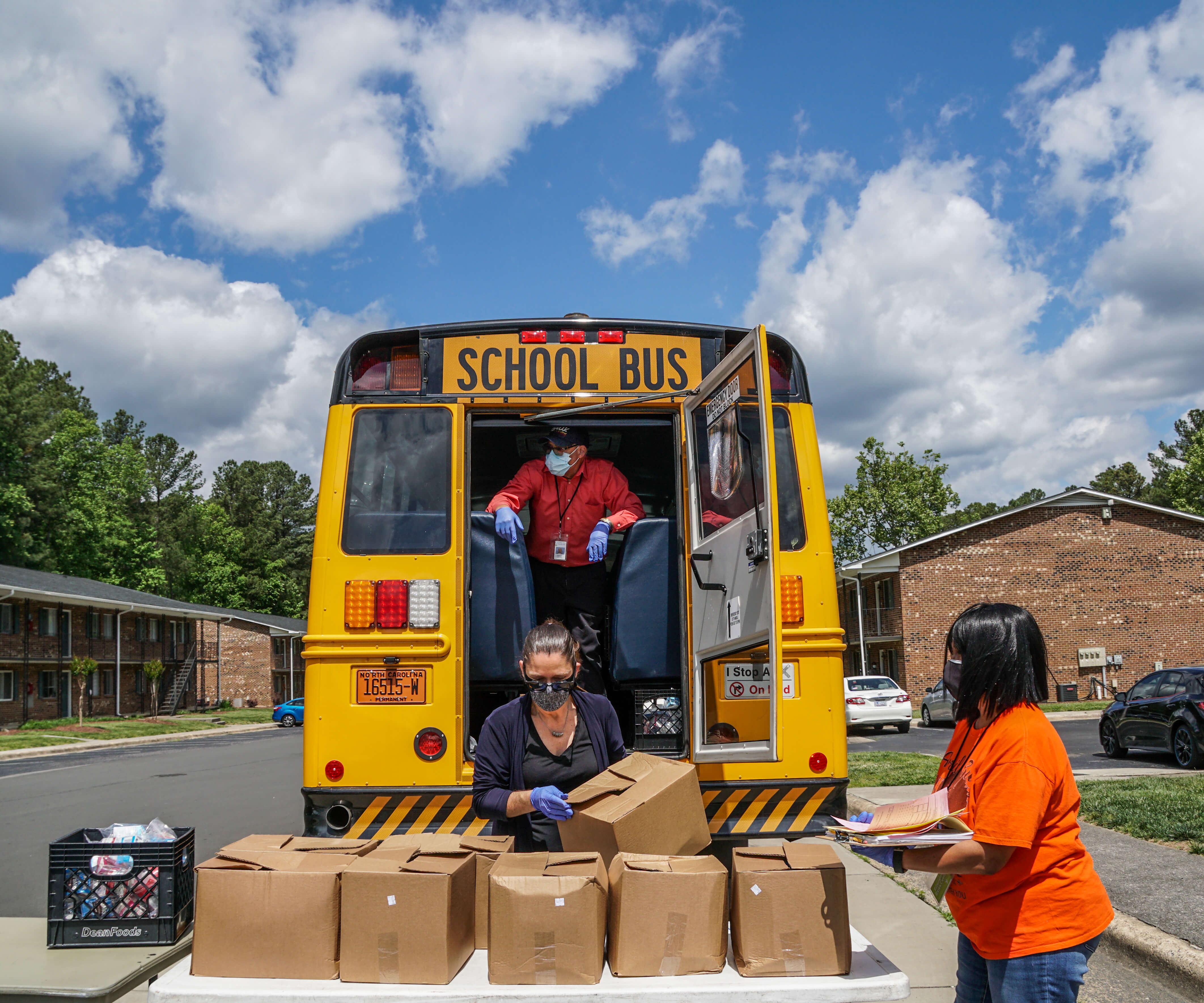 Chapel Hill/Carrboro City schools offer lunch to students when classrooms are closed.
With the Chapel Hill library closed, its parking lot was the site of a weekly food pickup.
In Durham, Raise Up/Fight for $15 distributes produce and organizes against inequality worsened by the pandemic.
Feed Durham NC has served over 10,000 meals during the pandemic. Funded solely by donations, its monthly cookouts deliver familiar, nutritious food to its many community partners.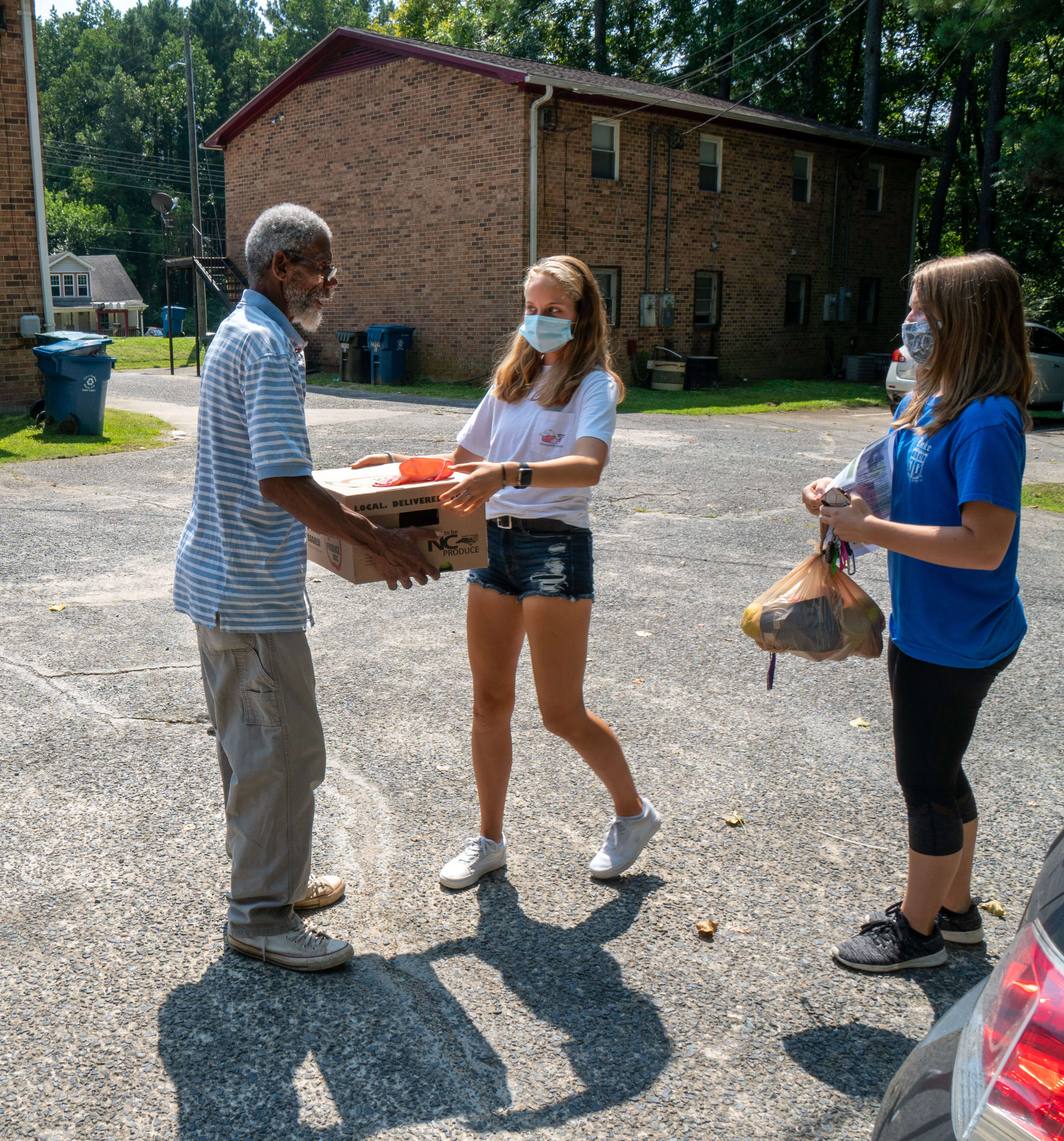 Root Causes, created by Duke Med students, began a fresh produce program in response to Covid-19.
End Hunger Durham delivers hot meals to vulnerable older adults.
Meals on Wheels Orange Co. switched from delivering a hot meal daily to five frozen meals once a week to keep recipients and drivers safe.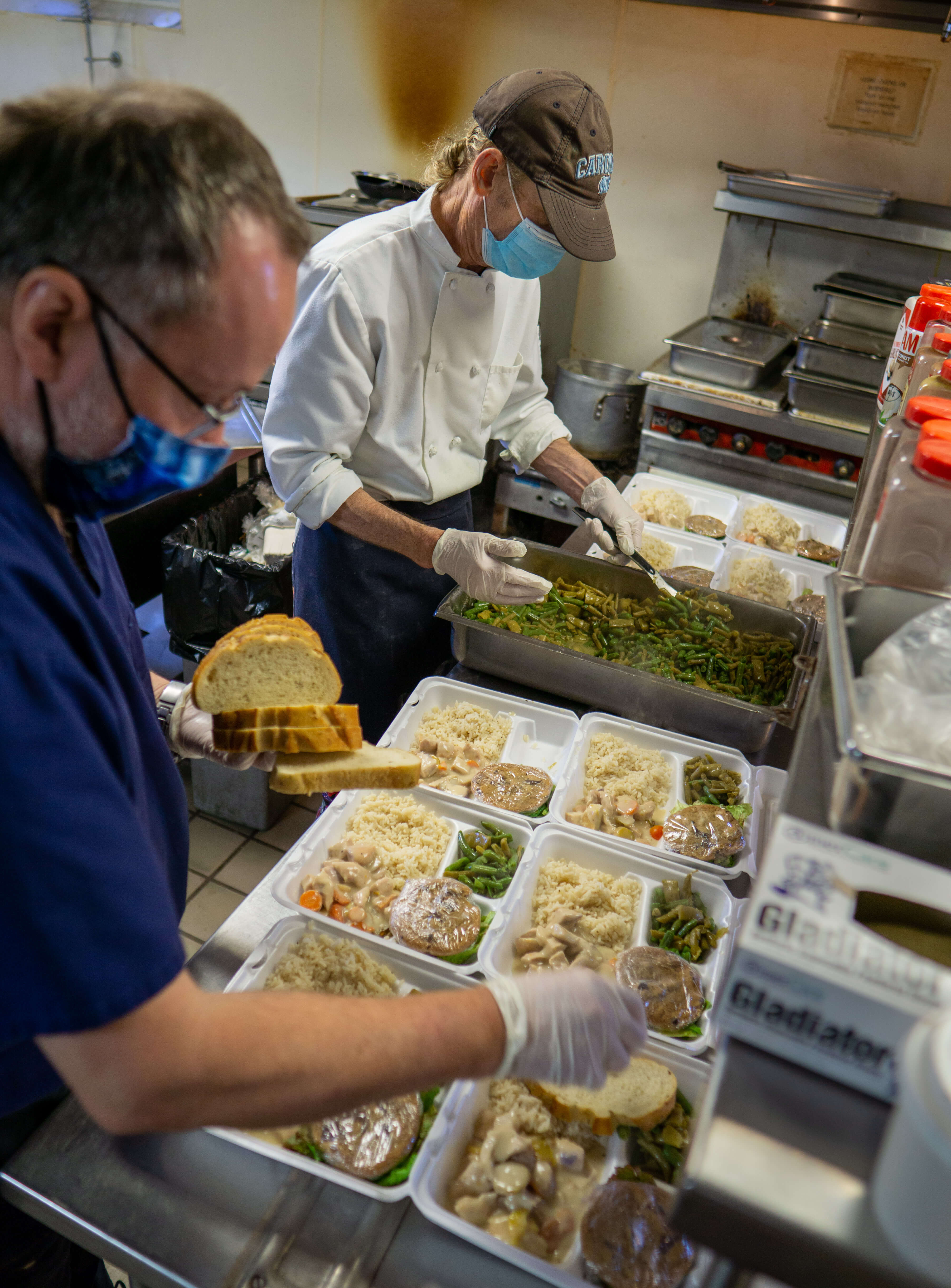 Inter-Faith Council in Carrboro/Chapel Hill provides free meals 365 days a year. Nearly all the food is donated.
A Place at the Table cafe in Raleigh provides good food for all, regardless of ability to pay.
Mai-Mai, a native of Burma, is an interpreter for PORCH, which distributes traditional foods to immigrant families.
Maria Noel relies on help from PORCH and others to feed her family.