Exhibition Statement 
The Colour Purple is a collection of unabashed moments that are a part of a larger story connecting rituals and burial practices of a Zion Revival congregation in Kingston, Jamaica to practices and rituals across the African Diaspora. Destabilizing western ideologies these images recenter a practice, grounded in connectivity, history, and identity.
I wanted to document their celebratory practices, which are deeply rooted in history, strung together by music, language, love, and their African heritage. In an attempt to capture some semblance of truth, The Colour Purple grounds the viewer in visual participation. The Colour Purple represents all the good things that are in the world. In these photos, you encounter people, practice but most importantly you encounter a celebration of life and all the good.
Curated by Alimot Yusuff
About Rox Campbell
Rox Campbell (b. 1991, Kingston, Jamaica) is a documentary artist and educator based in Brooklyn, New York. Their practice is a combination of photography and experimental video focused on the ways in which representations of Black people contribute to the dehumanization and violence against Black bodies within their own communities and society at large. Campbell explores how counter-framing, reimagining, or altering existing representations can also alter the perception of Black bodies. Their work has been shown in galleries, public exhibitions, and conferences including the Penn Museum, The Power Plant Gallery, and the South African National Gallery. Campbell earned a Master of Fine Arts from Duke University in Experimental and Documentary Arts and a Bachelor of Arts in Studio Art from the University of Virginia.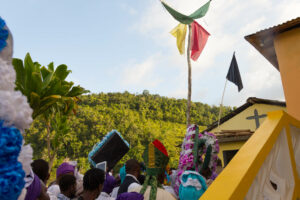 Online Exhibition Video 1 Statement: 
We were in a crowded church. I let the crying, stomping, and chanting guide me. As the believers rocked side to side, their skirts and robes blended with the powerful sounds filling the room. From where I stood, I saw the spirit their bodies conjured: this was churching.
Online Exhibition Video 2 & 3 Statement: 
The dead must pass their home on the journey to their final resting place,  their souls need to be at peace.
We church, we pass, we journey.
"We commit this soul of our departed brother and commit his body to the ground, earth to earth, ashes to ashes, dust to dust."
We mix, we lay, we seal.