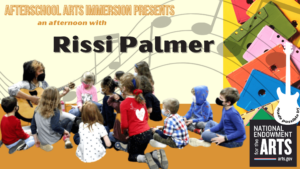 Hello, AfterSchool Arts Immersion parents and guardians!
Yesterday, our young artists got to spend the afternoon with educator and musician Rissi Palmer. They created music together, sang together, and learned all about guitars and other string instruments. Rissi broke down the basics of songwriting and led the kids through the creation of various elements of a song. Students learned about song elements like verses, hooks, choruses, and more. Rissi helped the kids connect music to popular culture, discussing how to write a song based on themes, emotions, and even people like "The Rock." Each group of students, including Kindergartners & 1st graders, 2nd & 3rd graders, and 4th & 5th graders created a song with Rissi by the end of their blocks!
We are so grateful to have an amazing performer like Rissi Palmer join us at the ArtsCenter to grace us with her music TWICE! The afternoon was made possible by the National Endowment for the Arts and South Arts. From everyone at the ArtsCenter, thank you very much!